Table of contents
Overview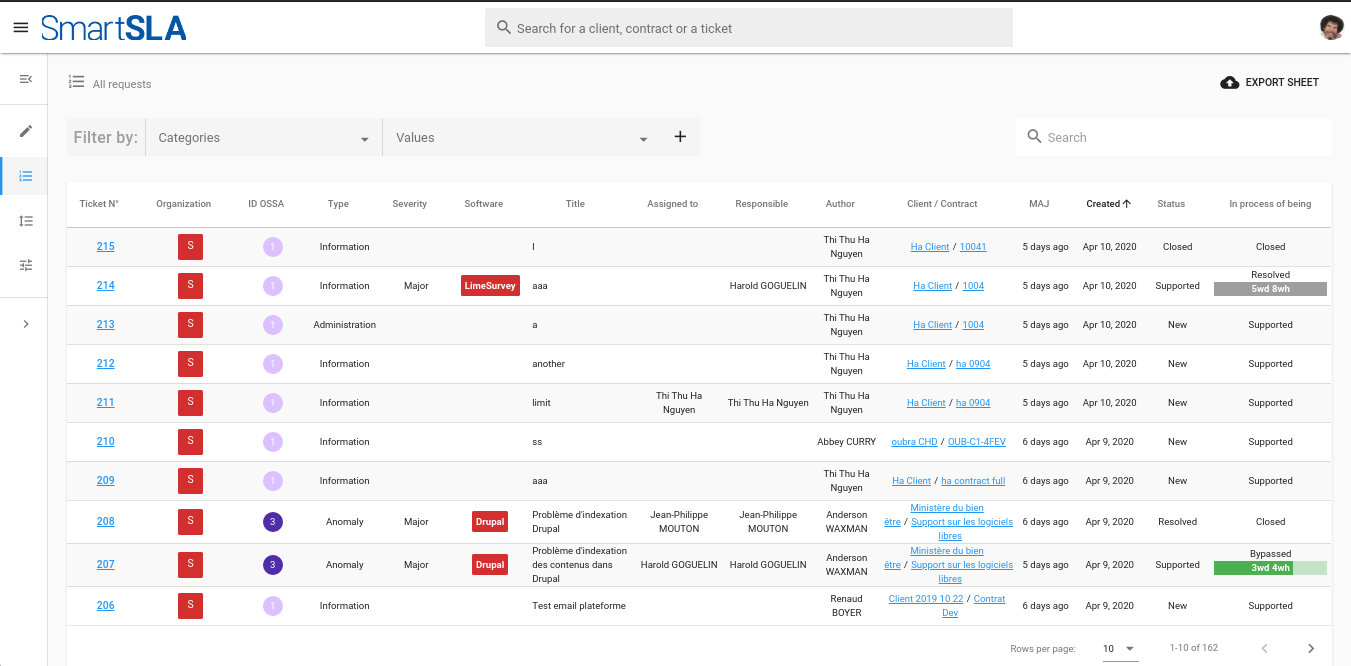 SmartSLA adds the ability for clients to create support tickets / issues concerning supported software under a scope of a contract and interact with experts and admins.
it consists of:
frontend app built using VueJS.
OpenPaaS component as backend, built using nodeJS.
Installation
here are the steps required to install the SmartSLA after you have installed OpenPaas
1. install the backend component
$ESN_PATH is your openpaas installation path
$SMARTSLA_PATH is your SmartSLA installation path
clone and install the project
git clone https://ci.linagora.com/linagora/lgs/smartsla/smartsla-backend.git
cd smartsla-backend
npm i
export SMARTSLA_PATH=$(pwd)
link the module to openpaas

bash
cd $ESN_PATH/modules
ln -s $SMARTSLA_PATH smartsla-backend

add it to the modules list:
edit your $ESN_PATH/config/default.json and add smartsla-backend to the modules list
  

...


  

"modules"

:

 

[


  

...

,


  

smartsla-backend


  

]

,


  

...



for development check the component docs
2. install the frontend app
clone and install the project:
git clone https://ci.linagora.com/linagora/lgs/smartsla/smartsla-frontend.git


cd 

smartsla-frontend
npm i

run the development server using npm run server
now the application is up and running on localhost:8081 ( if esn is already running )
to build the frontend for production just run npm run build and host the contents of the dist folder to in your web server ( exemple nginx )
configuration:
1. frontend
change the environment variables in public/end/openpaas.js to match your OpenPaaS instance:
VUE_APP_OPENPAAS_URL is your openpaas instance url where the SmartSLA backend component is installed.
SSP_URL is your SSP url to be used to reset user passwords.
LIMESURVEY_URL is your limesurvey instance url.
SUPPORT_ACCOUNT customize your SmartSLA information.
2. backend
Set the limesurvey API in the configuration: http://limesurvey.smartsla.local is our limesurvey instance url
export

 

$ESN_URL

=

"http://localhost:8080/"




export

 

$ESN_ADMIN

=

"admin@open-paas.org"




export

 

$ESN_PASS

=

"secret"


curl 

-X

 PUT 

-H

 

'Accept: application/json'

 

-H

 

'Content-Type: application/json'

 

$ESN_URL

 

-u

 

"

$ESN_ADMIN

:

$ESN_PASS

"

  

-d

 

'[
  {
    "name": "smartsla-backend",
    "configurations": [
      {
        "name": "limesurvey",
        "value": {
          "surveyId": 491487,
          "apiUrl": "http://limesurvey.smartsla.local/index.php/admin/remotecontrol/",
          "username": "admin",
          "password": "password"
        }
      }
    ]
  }
]'